Break Up of the Century!
The Separation of Taylor Swift and Joe Alwyn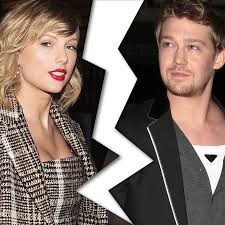 On April 8th, 2023, pop star, Taylor Swift and British actor, Joe Alwyn split after dating since May 16th, 2017. Sources say it was due to differences in personality and the couple learned they weren't right for each other after the pandemic.
The breakup comes after six years of dating. Throughout their relationship, the pair seemed to be on friendly but non-romantic terms with each other and bonded over their shared passion for art and creativity. Swift spoke of what she knew in her prior relationship "Like my relationship for six years, we've had to dodge weird rumors and ignore them."
Swift is reported to be handling the breakup well and adjusting to the single life. She has been spotted having a girl's night with Gigi Hadid, Blake Lively, and Alana, Danielle and Este Haim. Alywn has also been spotted with his co-star from The Brutalist, Emma Laird in Hungary last month and is rumored to be dating her. Fans who wanted Swift to have a happy ending are devastated. Alwyn has been a muse for her songs since the album Reputation. During her Houston Eras tour she is thought by fans to have made subtle comments about their split and sang You're Not Sorry, a breakup song about a terrible partner.
Swift and Alwyn had been talking about getting married a few months ago but turns out that the pair weren't quite ready for that. An article in Insider states that "their differences in their personalities have become harder to ignore since they've grown apart."
Landmark College Voices interviewed a couple students on their thoughts of the shocking news.
Gavin Weiland, a Landmark Student, shared his thoughts about the breakup:
"It kind of sunk in when I first heard the news right before today. It was very shocking and unexpected news for me. I am speechless, to be honest. Just at a loss of words."
Ian Pearce also comments on what he thought about Swift splitting up with Alwyn, but also on the breakup that she experienced with John Mayer,
"I heard stories before on when she broke up with John Mayer when she was much younger. I do like a song John Mayer wrote, but after hearing what he had done, considering how young she was, I'm not inclined to hear his songs after that."
Pearce, added:
"I guess it's not really that surprising, it definitely happens when a relationship goes south. It's shocking and I do remember Taylor Swift being engaged."
Last year in January, Swift wrote a song called Lavender Haze which she revealed on Instagram to be written about her relationship. Her song shows the meaning to ignore fake scandals to protect her relationship with Joe Alwyn.
Pearce shares his thoughts on his favorite songs that he listens to and from one of Swift's albums,
"From her new album, Midnights, I'd say that it does have some good tracks. I especially like Anti-Hero and Bejeweled. Some of my favorite Taylor Swift songs are Delicate, You Belong with Me, Getaway Car, Gorgeous, Love Story, and Blank Space."
As of right now, Swift isn't thinking about starting another relationship anytime soon. She is adjusting her life as a musician and is now focusing on her performances in America. A week before the news broke of her split with Alwyn, she surprised her audience by swapping out the song track Invisible String with The 1 in her album Folklore, which centers around a lost love that she once had to remember.
–
–
–
–