The Adventures of Finn D. Shark: Finn's Final Farewell (SERIES FINALE)
Finn discovers something that will change his world forever. This is the Series Finale for his blog.
Time… is… everything.
It's been a few days since the last adventure and things still don't feel right. My aches and pains just seem to get worse, with no sign of improvement. I've been searching for something that could bring me back to my normal, happy-go-lucky, fish-sicle loving self. Yet I've had no success finding that something… until now.
I've often found myself traveling through different universes. One could say I've met a multitude of Finn's. (Yes, Einstein; this IS a multiverse story.) Anyway, the strangest one I've found is one that seems to be just mere weeks into the future. I saw a younger, carefree, and more handsome version of myself. He really reminded me of how I was when I first took the reins from my great, great, great, great, great, (WE GET THE JOKE!) Grand Finn. I often find myself visiting that universe the most because it makes me feel confident that my pains and aches will soon be relieved.
Last night, I laid awake for hours. My mind wandering in dozens of directions and thinking so much about the life I've already lived, the people that matter the most, and the all the things I've learned along the way. Then, suddenly, I drifted into what felt like a deep sleep. I could feel myself walking on water as I crossed the lake where I grew up. (You really think Vermont has no bodies of water? You need to get a clue.)  It was in this moment of my dream I saw my great (multiplied by whatever we said earlier) Grand Finn. It was the night that he sent me to become the shark I am today.
As I watched him, he was almost lifeless. He described the pains and the aches, but also the adventures he had been on and the love he shared with the people who mattered the most. He reached out his flipper and told me, "You, Finn… you are the next great Landmark Shark. You will bring people love and joy. But most importantly, you will ALWAYS move forward. YOU are the new spirit of Landmark."
As I watched the scene play out in my head, I remembered the very moment. Those chilling words of wisdom and inspiration as he shook my flipper. As he shook my flipper, he said one last thing, "This is not goodbye… just a see you later." At that moment, Grand Finn disappeared into the darkness.
I awoke with the words of Grand Finn running through my mind. Was this dream trying to tell me something? Could it be… that my time was ending? If so, who would be the next great Landmark Shark? I thought about this for many hours, and I finally decided I knew what to do. I opened my portal and hopped in; this was the moment that there was no turning back.
I appeared once again in the realm of just a few weeks from now. I saw that shark again; his name was Finn L. Shark. Generally, when you time travel and dimension-hop you should never interfere with it…but this seemed like the only opportunity I would have to do so. I popped out from behind a bush and surprised the other Finn.
He stared at me for a moment before asking, "Who… who are you?" I sat down with him and told him, "I am Finn Drake Shark. I am from the past, and I have come here with an important message about your future, young Finn. Would you please come with me?"
The young shark's facial expression oozed shock and wonder. I opened a portal and said, "Follow me. I will keep you safe." We then returned to the here and now. The present, if you will.
Young Finn looked around in awe at being transported backwards in time. I sat down and breathed a heavy sigh. "Mr. Finn, what's wrong?!" he asked. I felt a tear on my cheek and looked down. "My time… young friend…is coming to its end."
The other Finn sat beside me and laid his flipper on my lap. "Are you going to be okay, Mr. Finn?" I looked down at him and said, "I will be now that I have met my true successor." The youngster's eyes widened with shock. "What do you mean, Mr. Finn? What's happening?" I took a deep breath and told him "You, Finn L. Shark… You are the next great Landmark Shark. You will bring people the gifts of laughter, of mischief, of caring, of hope, and of love. But most importantly, you will ALWAYS move forward. YOU are the new spirit of Landmark."
Suddenly, the room began to swirl and I began to see visions of all my past adventures. Five years of magic, mischief, and bringing joy to every single person. This was what being the spirit of Landmark has meant to me. I saw every adventure flash right before my eyes: traveling the campus, swinging in the breeze, performing in a stage show, cutting the power to campus by mistake, swapping bodies with Dr. Eden, and DJing for WLMC. It was at that moment I came to terms with a simple statement: I've had a wonderful life, and now it's time for the next great Landmark Shark to arise.
 "Please, don't go Mr. Finn. I don't want you to leave me," the young Finn whispered, but I knew it was time. I took his flipper in mine and said the same words that Great Grand Finn told me, "This is not goodbye, just a see you later." As soon I finished speaking, the room began to swirl again. I shook his flipper as I felt myself departing from this world. Young Finn stood there in tears and shouted, "We love you Finn D. Shark. We will never forget you." I made one final heart-shaped gesture toward him and said my final goodbye. "And I will NEVER forget you, Landmark."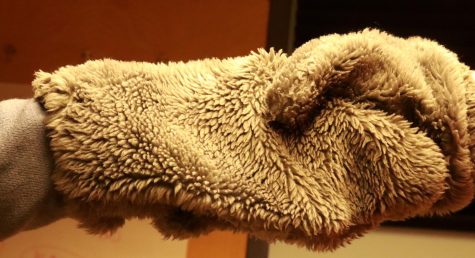 These days, I look down at the new Finn from above with the great Landmark Sharks of the past. We couldn't be prouder of him, and we know that if there is a Landmark, there will ALWAYS be a Finn the Shark. That is the end of my story. Thank you for sharing five magical years with me on-campus and one magical year on the blog. This isn't goodbye friends, just a see you later.
-Finn D. Shark