Leadership Profile: "Eden's Journey Toward Success"
Leadership Profile (Other): "Eden's Journey Toward Success"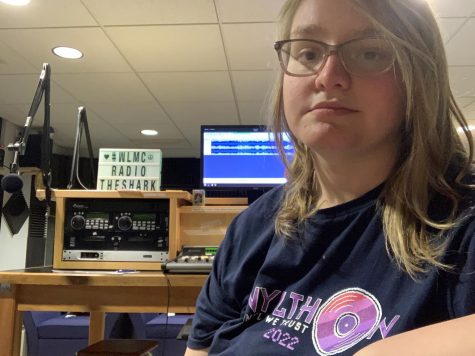 Eden Kayser is a third-year student at Landmark College who is involved in all sorts of school activities and has a leadership role in some of these activities. Eden got her start as the Assistant Coordinator of the Landmark College Arcade Club, later promoted to the Associate Coordinator. Over time Eden has become a key part of the Landmark community, working with many other people on campus, including Robert Shaw, current Assistant Coordinator of Arcade Club.
Eden Kayser had a long journey towards becoming a key leader at Landmark College. Eden applied for a position to become a leader in the Arcade Club, hoping to get elected as the new Assistant Coordinator. She attempted to get elected by her fellow members but ultimately wasn't chosen. Later Eden became a leader in Arcade Club after one of the previous leaders left Landmark. This was Eden's first step toward being involved as a leader on campus. Over time Eden has been involved in several leadership roles on campus, including the WLMC Radio, orientation leadership, and becoming a game room monitor. Eden later got promoted to Associate Coordinator of Arcade Club with Robert Shaw taking the position of Assistant Coordinator.
Eden has detailed her path towards success and highlights her leadership style, describing herself as very kind and able to communicate effectively. Eden also believes that her biggest strengths are being humorous, friendly, and caring. "I'd say my biggest strengths would probably be my ability to be humorous and friendly toward other people. You'll find that people do feel comfortable talking to me, and I'm very laid back. But I also actually care, and I'll put in a lot of effort into my work, because I want to be proud of what I'm doing," Eden explained. Eden's colleague Robert Shaw agrees with Eden's view of her strengths. "Eden is very kind; she has reached out to me when I've had bad days before and made sure I'm okay. She's done similar things to other members of the club," observed Robert. Robert has described Eden as easy to talk to, and he said Eden is also effective at organization and planning. Robert explained, "She's quite organized, where she can kind of remember a lot of things that we have to bring down and stuff like that. And she's I'd say quite observant." Working with Eden has had a big impact on Robert. As Robert details, "Learning how things work in the club from her is a great experience. And she's definitely someone I can ask questions to. So, I do look up to her a lot." Eden has clearly developed her strengths as a leader.
Eden has cited Daniel Molster, the founder of Arcade Club, as a major influence on her leadership style. Eden has worked with Daniel as part of Arcade Club and WLMC Radio, learning over time from how he handles leadership. Eden explains, "I've observed his leadership the past two years and, I don't know if he knows this or not, but I feel like he kind of gave me the confidence to become a leader." Eden adds, "Daniel is kind of my mentor, in a way really. And I feel like I owe a lot to him." Eden is on the path toward becoming the primary leader of Arcade Club after Daniel graduates from Landmark College.
Eden has said that the biggest challenges in the way of her success as a leader are anxiety and self-doubt. Eden says, "Sometimes I still have that image of myself being introverted, incompetent, or awkward." Eden said that she doesn't think of herself as being highly talented or made for being a
leader, instead she had to put out huge amounts of effort to get where she is now. Eden has also said that she often feels self-conscious around other people, wondering what they think of her. Eden goes on to explain, "Pretty much how I see myself and worrying about how others see me is probably the biggest challenge and the biggest hurdle I've had." Eden continues to work hard to overcome her challenges and improve as a leader.
Eden is a great leader with strong organizational skills and cares dearly for her fellow students. Eden is truly representative of a relationship leader, being people first and showing empathy toward others. At the same time, Eden is a competent leader capable of getting things done when necessary. Eden is an important part of the Landmark College community and continues to be a successful leader.