WLMC: 2021-2022 Year in Review
WLMC Celebrates another successful year of programming, student engagement, and audience growth.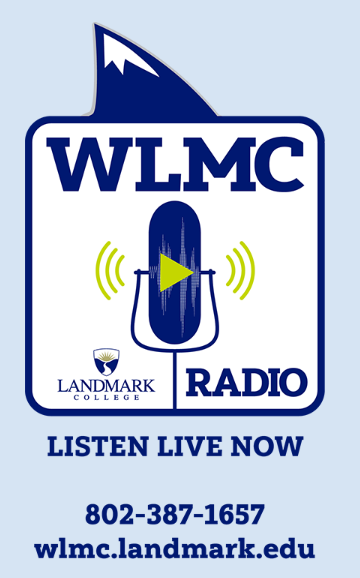 You're listening (reading) to WLMC- Landmark College Radio in Putney, Vermont… THE SHARK! 
Another year has come and gone and it often makes one wonder what has happened throughout that year. WLMC has had another successful year, potentially its most successful to date. This story will list the accomplishments from this academic year that WLMC has achieved.
World College Radio Day 2021 Participating Station, October 1st, 2021
Spirit of College Radio Award, December 2021 (College Radio Foundation)
IBS Award: Best College Radio Station Online/Streaming (Under 10,o00 Students), March 2022 (Intercollegiate Broadcasting System)
Vinylthon 2022 Participating Station, April 23rd, 2022
LC Voices Launch, April-May 2022
WLMC Radio Receives Portion of Spring 2022 Class Gift Donation (May 14th, 2022)
WLMC remains committed to the Landmark College community and LC Voices Family. In the coming academic year, students will notice more cross-branding not only from WLMC but Voices TV and Voices Magazine as well. LC Voices will continue to grow, and so will all of the units within the LC Voice umbrella. WLMC will also be altering its Station ID slightly and some promotional content will also be adjusted to align with the LC Voices branding.
Thanks to everyone who has supported WLMC Radio this past year, we look forward to Fall 2022!
You've been reading, WLMC- Landmark College Radio in Putney, Vermont… THE SHARK! A member of the LC Voices Family.
Stay tuned over the Summer for more updates from WLMC Radio, Voices TV, & Voices Magazine here on the LC Voices website!