LCVoices Launches
April 8, 2022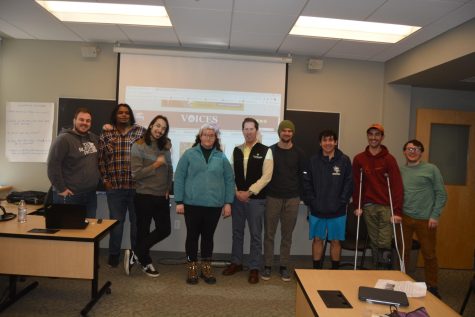 For Students, By Students. Voices magazine has been a part of the Landmark College community since 2019. What started as a traditional student newspaper is evolving to an interactive student run website. 
As a senior in our Communications and Entrepreneurial Leadership BA program, this project has given me the best experience in terms of project management. This website is a huge collaboration from a lot of different faculty and students giving us a taste of what the "real world" is like.   
Freedom of expression is one of the most powerful tools we have at our disposal. After a recent meeting with Dr. Eden, that has never been clearer. He has been a huge supporter of Voices Magazine since he's been here, and could not be more thrilled to see it expand to this new medium.  
He said that one of the hardest things about his job is understanding what the students want. He sees this website as a perfect opportunity for us to express ourselves and to share what we care about. 
Dr. Eden made it clear to us that he "doesn't want to be a muzzle". "If you find a problem with the school and want to write about it" do it. But make sure you prove what you're talking about and follow good journalism principles.  
He wants our website to feature articles that are more than just gossip or lists of complaints. He wants us to showcase work that is unique and will make people care about what you are writing about.  
While there will be a review process for all content that gets published on the website, it is not to censor or silence you. It is to make sure we hold ourselves to the same standards as any other student news organization and ensure we are putting out quality work. 
This website is for YOU, the Landmark Student. Learn all about what we have to offer and ways to get involved! There are plenty of clubs and organizations catering to all kinds of interests! From our IBS Award-Winning Radio Station, our new Voices TV Station, the LEAP program, to our sports teams and clubs! 
We are launching this website to continue the core ethos of the Voices magazine. To be an outlet for student voices. But what does that mean?  
If you love to write poetry, non-fiction, fiction, screenplay, fan fiction you name it, and want to share it, our website is for YOU! Our vision for this website is to regularly feature student work from all ranges of media. From print, TV, radio, video or beyond. As well as being the virtual hub for all student life, LCVoices will be a better way to learn about all our clubs and organizations and to find out about all the great events and activities you can be a part of. 
If you want your voice to be heard submit your work to [email protected]