The Adventures of Finn D. Shark: Holiday Nights (Fall 2022 FINALE!)
Finn is back for a final tale of the term! Happy Holidays!
HO-HO-WHOAAAAAAAA!!!!!
BRRRRRR!!!!!! It's chilly outside… I should go inside.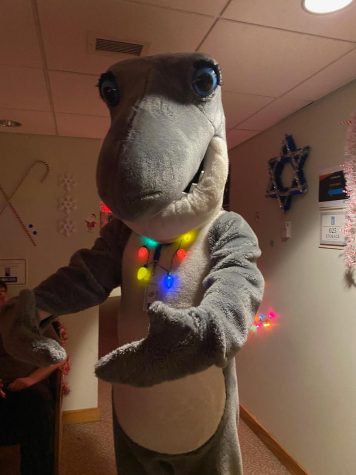 Well, well, well. Here we are once again on my blog! Today I've got a toasty tale to tell full of yuletide cheer. So, grab some eggnog, hot chocolate, or a nice toasty fish-burger (mmm… fishy goodness!) and get ready for me to spin a yarn about a recent holiday experience.
We open again on a chilly evening in the world of Landmark College. It was freezing outside (no, really. There were icicles hanging from the clouds!!! Okay… that's a lie.) and I needed somewhere to get warm. I went inside my office to find a shocking sight: my office had been taken over by elves!!! I demanded an explanation from them, but they insisted I take a nap and ask questions later. Soon enough, I was fast asleep… you all know how much I love to take naps. When I awoke, I was in a magical winter wonderland! I rubbed my eyes and was in shock to find Santa's Workshop had been created, the nerve of these elves! But then I heard something… the sounds of the holiday season filled the air. I decided I had to walk outside the workshop, and you wouldn't believe what happened next!
The whole Club Commons was transformed into a magical winter wonderland! There was light, magic, and most importantly: music. I was in awe of the wonderful efforts the students of Landmark had put into creating such an immersive and magical experience in the Club Commons. I couldn't help myself- so I performed alongside the students and danced along to some holiday hits. We were having so much fun that I didn't realize it was almost midnight- I waved to the students, gave out some hugs and high fives then just like that I vanished into the workshop (you gotta know how to make an entrance AND an exit! True showbusiness magic takes practice!) and fell asleep. It was a perfect holiday night indeed.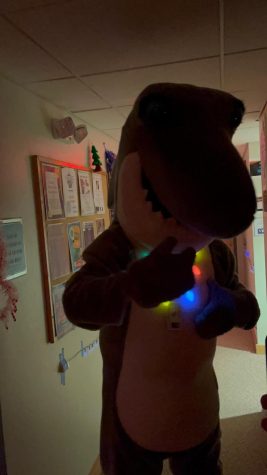 Everyone, it's been such a great semester here on the blog. I'm packing up my fish collection and getting ready to swim home for the holidays. I hope that all of your days are truly merry and bright this holiday season. The song Frosty the Snowman said it best… "But they waved goodbye saying don't you cry…" Friends, I'll be back in the new year for more adventures around Landmark College. Have a safe, happy, healthy, and magical holiday season and of course…
Remember- Keep Moving Forward!
-Finn D. Shark
LC Voices Roaming Reporter & LC Mascot