The Adventures of Finn D. Shark: Swinging in the Breeze
Finn is swinging in to this week's blog segment!
WHOOOOOOOAAAAA!!!!!
Voila- it is I! Finn D. Shark, and boy is it windy out there!
How do you do?! Boy, it's great to back here on the LC Voices blog again… Blog? Vlog? What do the cool sharks call it these days?! Today I want to tell you a swingin' tale to entertain and delight you! Don't worry- there's a quiz at the end so you'd better take some notes. Or maybe there's no quiz at all and I just want your attention…
Anyway, today's story takes place on a foggy morning here in the mountains. There's this lovely little swing I like to visit. I like to go up and down, higher then lower, and so on and so forth. But what's always exciting is that the citizens of Landmark College (I still think it should be Finn's College) LOVE seeing me in action on the swing! I mean, they kind of stare for a minute but then again… how many other full-grown sharks ride a swing? The answer: THE MAJORITY!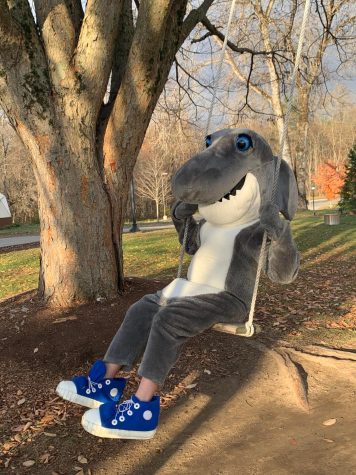 This past time I was swinging in the breeze on one of my favorite days of the semester: Open House! Some people caught me in the act and I'm happy to share some of those pictures with you here on my blog. I think it's really cool, but my question is do you like to swing? Do you prefer the swing by the Student Center or the Library?  Let me know in the comments if you have a preference!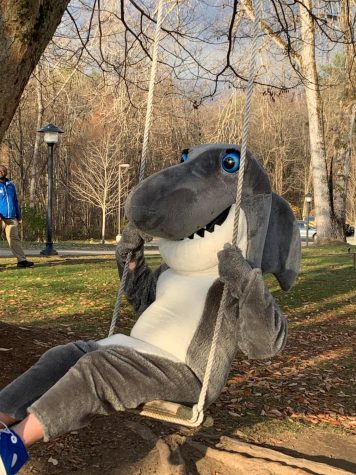 Everyone, it's been a blast as always but as a roaming reporter my job is to be on the run. That means I must hurry before some of those Landmark (Finn College) citizens come find me! Not to worry- another adventure is just around the corner. But until then…
Remember- Keep Moving Forward!
-Finn D. Shark
LC Voices Roaming Reporter & LC Mascot