Activism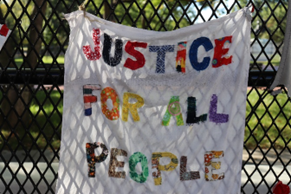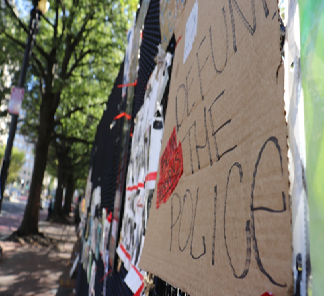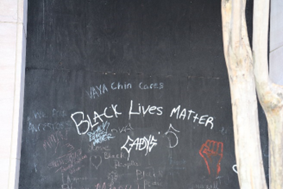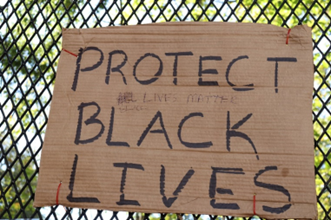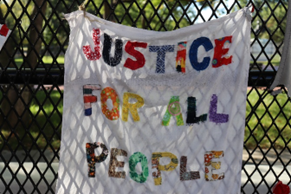 I have always been into activism, and it is interesting how people fight for what believe in such as Black Lives Matter. This year there were a lot of protests around this issue. It was serious when the police showed up with all their shields and protective gear and that is not right because this is a free country. This first picture is of the fence in the Black Lives Matter Plaza in Washington DC. I thought I would get a dramatic angle and I thought this piece of cardboard was very powerful to me. This is one of my favorite photos that I have ever taken that's of a very common topic in this country. Also on the fence was a building boarded up because the windows were broken because of the protesters. There was a lot of graffiti which people painted that day that said Black Lives Matter. This was the one photo series that I like and am happy with.
The image above is some of the graffiti in the Black Lives Matter Plaza and I wanted to take a picture of this because it shows what happened during the protest. If you really look closely, you can see a lot of names and it is super cool that people did that. This angle was not ideal because there was a homeless person sitting on the ground. I did not want him in the image just because of the angle and the subject I wanted in the photo. I think it is very important to express what you believe in and how to express it. I see that someone loves that people that are similar in color and race can come together and fight for what they believe in.
This Cardboard piece really says to protect for the people of color. This movement was hard for a lot of people all around the world. This picture really represents a lot of things like how horrible racism is and how we should strive to improve living conditions . These were fun to take pictures of because I can get that street feel with all the cardboard pieces and the ribbon on the fence. I was also creative with these photos, and I felt great documenting something that hopefully won't happen again.
There were also some sheets on the fence too and on this day, I got lucky with some great lighting with no harsh light. I got this sheet that said "Justice for All People" which I thought was powerful to me. With the lighting conditions that I had I was able to get some texture from the fence and it turned out to be a nice image. There was a lot of variation of different things in the plaza and I had a blast with it. I like all the stitching and all the colors of all the letters and the patterns with the fabrics. The person who did something like this had a lot of talent with sewing and I love the result.
A lot of the Black Lives Matter art on the fence was made up of colored ribbon that people tied on the fence to make words and I think that is super creative of them to do that. One thing that I liked was a construction sign that had the words "watch for black lives". This plaza was near the White House, and it is a pretty road. The road had in big letters "Black Lives Matter" and the letters are huge in yellow paint. These protests all around the world really impacted me because I like to learn about different cultures and people.